FYI: I'll be performing an evening of love songs (Lady Day's rare sides!) on the third floor of this elegant, well-appointed mansion with my trio for the evening -- Hilliard Greene (bass), Marvin Sewell (guitar) and Wayne Tucker (trumpet).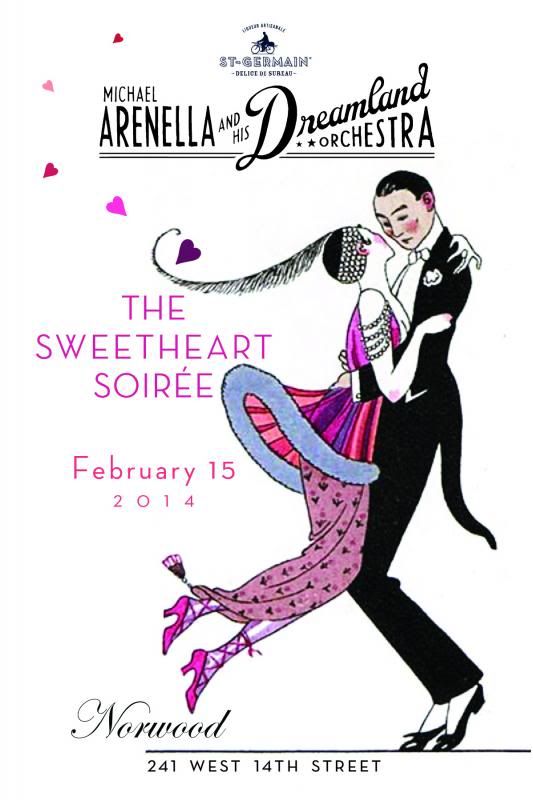 **ALL TICKET SALES ARE FINAL. NO REFUNDS AVAILABLE**

Return to romance at Michael Arenella's SWEETHEART SOIR
ÉE. To celebrate the Soirée's fifth flirtatious year, we have, in collaboration with ST-GERMAIN, chosen a most posh and exclusive rendezvous point - NORWOOD, a perfectly preserved, landmarked 1947 mansion. A strictly private club, enjoy a rare opportunity to experience this stylishly bohemian hideaway as our guest.
Whether
with an amour, wedded to one you adore or hoping to meet the one you're looking for, this promises to be an evening of enchantment and delightful intrigue. Plenty of plush seating, artisanal French cocktails featuring St-Germain and wooden floors for dancers will assure a most chic and intimate affair.
A passionate programme of entertainment will be featured over four floors of this lavish Victorian manse:
*MICHAEL ARENELLA and His Sextet, your devoted host and beloved bandleader
*NICOLE RENAUD, the luminous accordionist and chanteuse
*Jazz royalty, QUEEN ESTHER and trio
*Tap-dance darlings THE MINSKY SISTERS
Enjoy a dance lesson for both singles and doubles at 9:30PM with the ever-dapper and undeniably adorable RODDY CARAVELLA.

A gorgeous gratis portrait in our St-Germain KISSING BOOTH.

Guests are welcomed with a complimentary ST-GERMAIN COCKTAIL.

Cupid-approved cocktails alongside fabulous wines will be available for purchase at three unique bars. Complimentary gourmet hors d'oevres and sweet treats will be featured throughout the evening.
SATURDAY, FEBRUARY 15TH
DOORS AT 9PM
LIVE ENTERTAINMENT FROM 9PM - 1AM
ALL GUESTS MUST BE 21 AND OVER
BLACK TIE/EVENING ATTIRE IS ENCOURAGED.